What is this?
Burning Cat is a tabletop carnival of oversized games, comics, and two-story tall cat monsters. It's game night distilled into a weekend of creative amusements and hairy fireballs.
May 16-17, 2020
Portland, Oregon
Oregon
Convention Center
The things you
can do
at Burning Cat
Play a
Humongous Game
of Exploding Kittens
Come play the world's largest game of Exploding Kittens with cards that are probably taller than you.
Experience
the big and hairy
vending machine
You could get a glittering dragon egg or you could get a dirty potato. There is no telling what kind of blessings our vending machine will bestow upon you.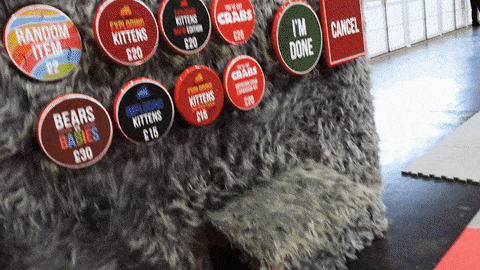 Play a massive game of
Freeze Tag
Come help us attempt to set the world record for the world's largest game of freeze tag.
No Screens.
Lo-fi Experiences
Come play games that don't involve devices or screens. Almost all of our amusements are analog and emphasize having tactile, hands-on gaming.
Play
Stupid Games
Carnivalesque challenges.
These games are for warriors, not for deep thinkers.
Play
Smart Games
cards, tabletop, and more.
Play an old favorite or discover your next favorite tabletop game. Borrow a game from our massive library and we'll get a table going for you.
Step Into the
Throw Throw Burrito
Dodgeball Cage
This is what happens when you combine card games with dodgeball and then stick players into a caged arena full of chaos and destruction.
Meet our Guests
Buy a Ticket
At Burning Cat, you can participate in tons more games, installations, activities, puzzles, and experiences.
The cat
who burns
Towering over it all will be our Burning Cat statue. She is our Goddess. Our muse. Our Catleesi. She will preside over the convention like a furry Sauron. There will be a countdown timer at her feet. When the convention ends, she will erupt with the light of a thousand stars. She will implode into something terrible and wonderful. She will transform.

She will "burn."
Creators:
Artists, Designers,
and creatives:
Tables at
Burning Cat are
FREE
Getting a table in Creators Alley is free, but you must complete a minor quest in order to be accepted.
Apply for a Table
Exhibitors
Exhibitor booths are larger than the tables in Creators Alley and occupy the rest of the main hall.
If you're interested in being an exhibitor at Burning Cat:
Apply for an

Exhibitor Booth
Get a Ticket
Every registration includes a goodie bag with some spectacular
surprises inside.
---
Widget not loading? Don't panic, head on over to Eventbrite and grab yourself some tickets!